Pour voir ou revoir la conférence de Jan Gehl :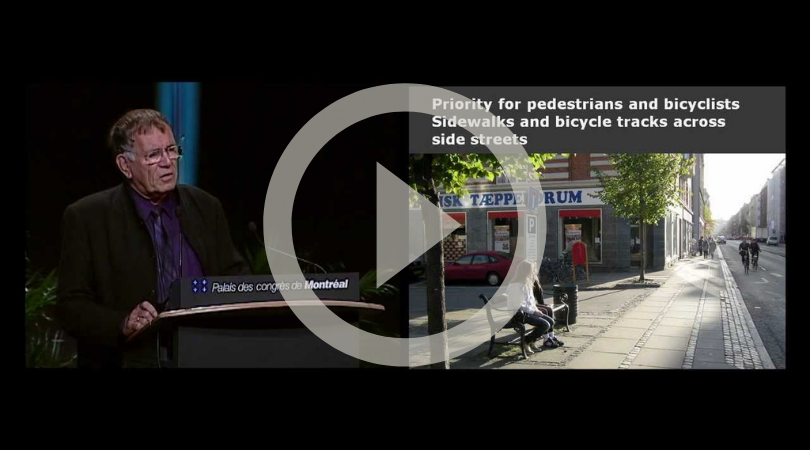 Conference in english.
Speaker : Jan Gehl. Founding Partner, Gehl Architects - Urban Quality Consultants, Copenhague, Denmark
Where : At the Ecocity World Summit Montréal 2011, during the keynote "Ecocities for All ?"
The book Cities for People by Jan Gehl (Island Press 2010) serve as point of departure for the presentation.
After 50 years of one sided city planning centered around making the automobiles comfortable, there is by now an urgent need for readdressing the ways our cities are planned in order to engage again in holistic city planning with a simple yet far reaching goal of creating great urban habitats for people.
By promoting a people oriented city planning strate­gy, where walking and bicycling are given a high priority, not one but a series of important challenges in the cities of the 21st centu­ry are simultaneously being adressed. The outcome being :
a more Lively city
a more Safe city
a more Sustainable city
a city inviting for more healthy lifestyles
A Lively City : If more people walk, bicycycle and otherwise spend time in the public spaces, the city will become more vibrant and inviting. In our present day society with people being spread out more and more in small, increasingly privatized households there is a growing need for meeting other people in the shared spaces of the city. No attraction in the city is greater than people.
A Safe City : When more people move about in the city by day and by night the city will be conceived as more safe, and will also actually be a safer and more friendly place. A Sustainable City: If more journeys are made by muscle power it is obviously a good thing in relation to sustainability. Further a good quality public realm is an important factor for any good public transportation system. People must be able to walk or bike in comfort and safety to and from the public transport at all times of day and night.
A Healthy City : One hour of moderate exercise pr day can increase life expectancy by 7 years. And the expenditures for health services will become dramatically smaller if the citiziens are helped by the city planning to move more systematically -and daily- about on foot and/or bicycle.
People oriented city planning in Copenhagen, Melbourne, Sydney, New York et.al. A number of cities have by now adopted policies to ensure that everything will be done in the city planning to invite the citiziens to use the public spaces and to walk and bicycle as much as possible in the cause of their daily day doings. Copenhagen, Melbourne, Sydney and not least New York, where impressive efforts are continuously being made to make the city more people friendly and at the same time more sustainable, will serve as examples for such policies.
The greatest challenge : The fast growing cities in the developing countries While the developments in a number of small and big cities in the developed parts of the world are indeed encouraging, it is important to realize that a people oriented holistic approach to city planning is even more needed in the many fast growing cities in the less developed parts of the World.